Posts for tag: dental implants
By Anthony Ladds, DDS
September 22, 2021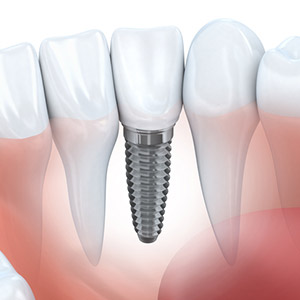 Along with fessing up to cherry tree surgery and tossing silver dollars across the Potomac River, George Washington is also famously known for wearing wooden dentures. Although we can't verify the first two legends, we can confirm Washington did indeed wear dentures, but not of wood—hippopotamus ivory and (yikes!) donated human teeth—but not wood.
Although they seem primitive to us today, Washington's dentures were the best that could be produced at the time. Still, the Father of Our Country suffered mightily from his dentures, both in physical discomfort and social embarrassment. Regarding the latter, our first president's dentures contorted his lips and mouth in an unattractive way, faintly discernable in Gilbert Stuart's famous portraits of our first president.
If only Washington had lived in a later era, he might have been able to avoid all that dental unpleasantness. Besides better versions of dentures, he might also have benefited from an entirely new way of replacing teeth—dental implants. Just four decades after this state-of-the-art restoration was first introduced, we now recognize implants as the "Gold Standard" for tooth replacement.
In recognition of Dental Implant Month in September, here are 4 reasons why dental implants might be the right tooth replacement choice for you.
Life-like. While other restorations provide a reasonable facsimile of natural teeth, implants take like-likeness to another level. That's because the implant replaces the root, which then allows for a life-like crown to be attached to it. By positioning it properly, implants and the subsequent crown can blend seamlessly with other teeth to create an overall natural smile appearance.
Durable. Implants owe their long-term durability (more than 95% still functioning after ten years) to a special affinity between bone and the titanium post imbedded in the jaw. Bone cells readily grow and adhere to the implant's surface, resulting over time in a more secure hold than other restorations. By the way, this increased bone growth around implants can help slow or even stop progressive bone loss.
Low impact. Dental bridges are another well-regarded tooth replacement option, but with a major downside: The natural teeth on either side of the missing teeth gap must be crowned to support the bridge. To prepare them, we must permanently alter these teeth. Implants, though, don't require this form of support, and so have a negligible effect on other teeth.
Versatile. Although implants are a practical choice for individual tooth restorations, multiple teeth replacements can get expensive. Implants, though, can also be incorporated into other restorations: Four to six implants can support an entire removable denture or fixed bridge. Implant-supported restorations are more durable than the traditional versions, while also encouraging better bone health.
If you need to replace teeth and would like to consider dental implants, see us for a complete examination. You may be an ideal candidate for this "best of the best" dental restoration.
If you would like more information about dental implants, please contact us or schedule a consultation. To learn more, read the Dear Doctor magazine article "Dental Implants."
By Anthony Ladds, DDS
January 27, 2020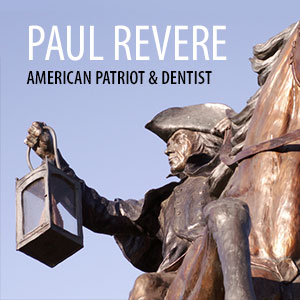 While celebrating all that a new year brings, take a moment to remember the New Year's Day birthday of a true American patriot: the legendary Paul Revere. Ironically, he became a legend some 80 years after his midnight trek to warn colonists of approaching British troops, thanks to Henry Wadsworth Longfellow's 1861 poem "Paul Revere's Ride." He was much better known to his fellow Bostonians as a prosperous silversmith, engraver—and "artificial teeth" maker.
That's right. Among his many business endeavors, Revere's résumé also included dental prosthetics, specifically custom dentures made of ivory. For the time, his work was state-of-the-art technology that far surpassed older tooth replacement methods.
But when we compare Revere's foray into the dental arts and today's restorations, his high quality 18th Century dentures were the proverbial "horse and buggy," while modern denture technology seems like "supersonic transport." Not only are today's dentures made of superior materials that are more "toothlike" in appearance, the means to create them using digital technology gives wearers a more secure and comfortable fit.
The modern denture—an appliance that replaces multiple or all lost teeth—is composed of a polymer base, usually acrylic that is colored to resemble gum tissue. Attached to this base are the prosthetic ("false") teeth that replace those lost along the jaw. These new teeth are usually made of a durable dental material like porcelain that looks and functions like real teeth.
The basic design of today's denture hasn't changed much in the last century. What has changed is our ability to create dentures that follow an individual jaw contours much more precisely. Using the latest digital technology, we're able to obtain highly accurate impressions of the mouth to guide the manufacturing process. Fit is critically important for how dentures feel and function in the mouth. If they are too loose, they become uncomfortable and limit which foods you can eat.
If that weren't enough, recent advancements with dental implants have taken dentures to an entirely new level, beyond anything imaginable in Revere's day. We're now able to create dentures that connect or are permanently affixed to implants set within the jaw, which makes them more stable and secure. An implant-supported denture also helps prevent bone loss, a weakness of traditional dentures, causing them to loosen over time.
As amazing as they are, we wouldn't have the modern version of dentures without craftsmen like Paul Revere who helped advance the cause of dental restoration. So, lift a glass of holiday cheer this season to this hero of the American Revolution—and of American dentistry.
If you would like more information about tooth replacement restorations, please contact us or schedule an appointment. To learn more, read the Dear Doctor magazine article "Removable Full Dentures."
By Anthony Ladds, DDS
November 21, 2018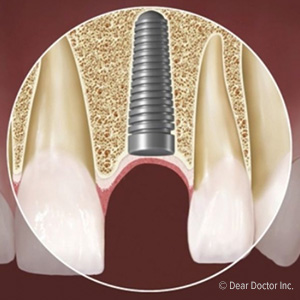 One of the best and most successful tooth replacement choices available is the dental implant. No other restorative method is as similar in both form and function to a real tooth as an implant; and with a success rate of 95-plus percent after ten years, it's one of the most durable.
But there can be extenuating circumstances that make obtaining an implant difficult or sometimes impossible. One possible problematic situation is the systemic disease diabetes.
Diabetes is a hormonal condition in which the body is unable to sufficiently regulate the amount of glucose (a basic sugar that provides energy to the body's cells) within the blood stream. Normally, the pancreas produces the hormone insulin to reduce excess glucose. But diabetes interferes with this insulin production: if you have Type 1 diabetes, the pancreas has stopped producing insulin altogether; if you have the more common Type 2, the body doesn't produce adequate insulin or it doesn't respond sufficiently to the insulin produced.
Over time diabetes can affect other areas of health, especially wound healing. Because the condition gradually causes blood vessels to narrow and stiffen, the normal inflammatory response to disease or trauma can become prolonged. This in turn slows the rate of wound healing.
Slow wound healing can have a bearing on the recovery period just after implant surgery, especially the necessary integration process that takes place between the bone and the titanium metal implant that provides its signature strength. If that process is impeded by slow wound healing caused by diabetes, the risk increases dramatically for implant failure.
That's the worst case scenario if you have diabetes, but only if your condition is out of control. If, however, you have your blood sugar levels well regulated through medication, diet and exercise, then your chances for implant success could easily be on par with someone without diabetes.
So if you're diabetic and are considering dental implants for missing teeth, it's important to discuss the possibility of obtaining them with both your dentist and the physician caring for your diabetes. With your overall healthcare team working together, there's no reason why diabetes should stop you from enjoying this premiere restoration for missing teeth.
If you would like more information on obtaining dental implants, please contact us or schedule an appointment for a consultation. You can also learn more about this topic by reading the Dear Doctor magazine article "Dental Implants & Diabetes."